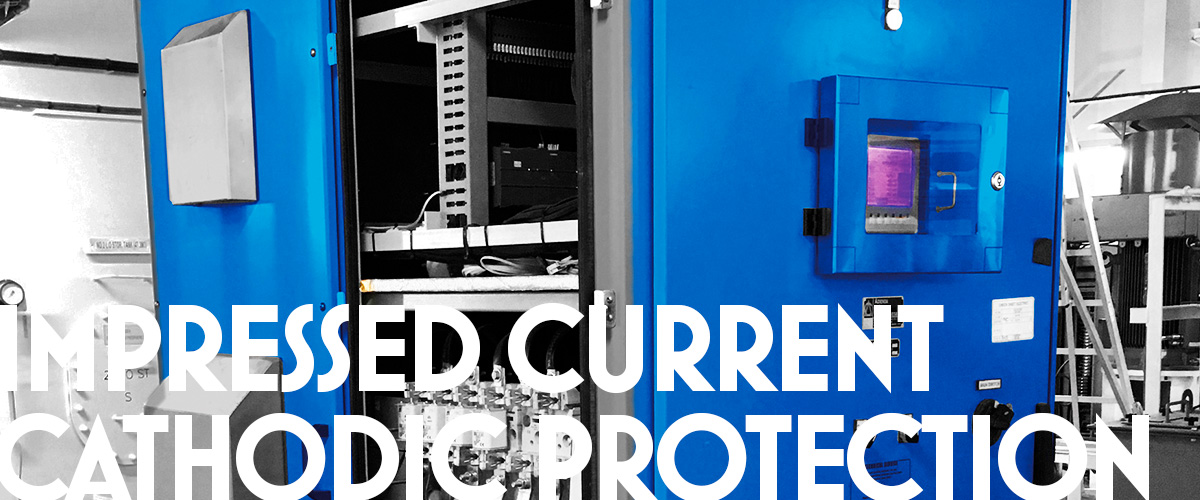 CORROSION PROTECTION
ICCP - IMPRESSED CURRENT CATHODIC PROTECTION
The ICCP impressed current cathodic protection system protects metal structures against corrosion. The metal surface to be protected is cathodically polarised. The system is based on control of potential by means of "reference cells", which automatically govern the impressed current of the permanent anodes. The reference cells are normally made of zinc (Zn) or silver/silver chloride (Ag/AgCl).
The anodes and the reference cells are electrically connected to a suitable electric power supply. Any change in potential measured by the reference cell immediately alters the intensity of the impressed current. The value of the potential is thus maintained around the metal structure's immunity value. In the case of ships, the hull and any accessory part of it can be protected. The ship line is, in fact, protected by short-circuiting it through a ring applied on the line itself (Slip Ring) and Ag brushes. Similarly, it is possible to protect the helm and any other accessory part of the hull by earthing them appropriately.
The ICCP system offers numerous additional benefits compared with sacrificial anodes, as it is cheaper and designed to operate over the long term without any preventive maintenance. The ICCP system guarantees the correct degree of protection/mitigation, as the system adapts rapidly to the conditions present and continues to offer optimal protection.
MARIMPRESS ICCP
This is an impressed current cathodic protection system used to protect the hull of ships, floating basins and all other structures submerged in sea water against corrosion. The system adapts well to temperature changes, water salinity, ship speed, paint conditions, guaranteeing excellent protection against corrosion.
MARIMPRESS ICCP →
MULTIZONE MARIMPRESS ICCP
A new generation of the ICCP system that can provide multi-zone control and redundancy. Thanks to a smart display, all statuses and operation of the systems are shown, allowing a particular zone to be corrected.
MULTIZONE MARIMPRESS ICCP →
NO CORROSION