ELECTROCHLORINATION
ECOLCELL®CHLORO ALKALI
FIGHT MARINE FOULING
ECO-FRIENDLY
The chloralkali process is an industrial chemical process for electrolysis of sodium chloride to obtain a highly concentrated commercial sodium hypochlorite solution.
The electrochemical process is conducted on an aqueous solution of sodium chloride to obtain sodium hydroxide, hydrogen and chlorine, obtaining sodium hypochlorite.
The ECOLCELL®Chlor Alkali system uses a specific diaphragm cell capable of producing high-concentration sodium hypochlorite, starting with a sodium chloride saturated solution.
The sodium hypochlorite produced has a concentration between 12% and 16% in volume/weight. It has various applications, including bleaching in the paper and textile industries, production of household bleach, removal of nitrogen from sewage (nitrogen break-point).
THE ADVANTAGES OF OUR PRODUCTS
ENERGY SAVING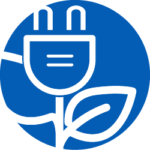 RETURN ON INVESTIMENT